Kayaking Mystique
Like people, every vessel has needs. The most essential of them is having a competent crew onboard.
Like humans, crew members also have needs. Because crews need to contribute and feel valued, any skipper worth his salt provides his crew with sundry tasks, jobs, chores that keep them busy, occupied, sober and out of jail.
A crew's competence often emerges from how well they have developed a meaningful relationship with their boat. How they bond with their living quarters and captain's orders often determines their stay. If they are comfortable and confident with their room and board, fed regularly, kept busy with meaningless tasks, occasionally plied with liquor and allowed to watch violent videos at night, most crews won't complain too much or mutiny by morning. So captains know when a crew feels a part of the ship, they become one with their water world. As the catchy saying goes I just made up..."
Happy crews make a happy cruise.
"
Of course, most capable crews do their part without any gratuitous captain compliments, excessive encouragement or barking orders...they know their duties...they understand their role...their place on board...they are familiar with the routine...the "fire drill"...with the captain's erratic and unreasonable behaviors.
When crews have been well-schooled and conditioned, they know how to act on their own volition...they know how to have fun, not because the captain is asleep, but because they are off cruise control. They know how to belong and behave.. how they fit and where to sit. When they feel as one with their boat, they have each other's back. It becomes as if they are family pulling for each other. They know how to
.
Note my crew above preparing for our Atlantic crossing during their free time before breakfast.
That is not me barking anything with the megaphone.
Our boat has to be prepared for windless days so I only have them use their muscles on calm days.
When my sails are pulling their weight,
I have them perform other menial tasks.
I'm pretty lenient.
I just like to yak every once in a while.
Afterall, I'm no tyrannical
.
No More
Yaking
Like human beings, crew members are social creatures. They respond to teamwork. They like pulling / working together as much as pulling for each other...like a family! And while family needs to connect and interact, they also need chillin' time to just hang. Families like to talk, and like any crew, they can get bored if everything is just yak, yak, yak.
Yak, Yak, Yak
Offing Cruise Control
Let's be serious for just one moment.
While most of the crew members aren't beasts of burden, oxen, mules, donkeys or dumb asses, it makes absolutely no sense for captains to herd, flock or even flog them. They, like most cruise ship passengers or family members, possess real human feelings and needs. And even though some may actually consider conversation as exercising their gums, most crew need other more physical activity and outlets than obeying every captain whim and commandment. While commendable to gab about how benevolent and magnanimous their skipper can be, crew need more than a canoe. They need an outlet...an escape...a diversion...a pleasure!
So after all their chores have been finished, crews need to "
". Get the monkey off their back. Get that beastly burden, the captain, off their backs. Get off the yacht and take some time off. Like all of us, they need breaks from the monotony of paradise as much as they need time in the water or on shore to blow off some steam. They need to express themselves. Heard, but not herded like some
.
Getting Off Mystique:
There are various offshore, near shore or ashore activities for most cruisers. Our crews had their own view of fun and off boat activities.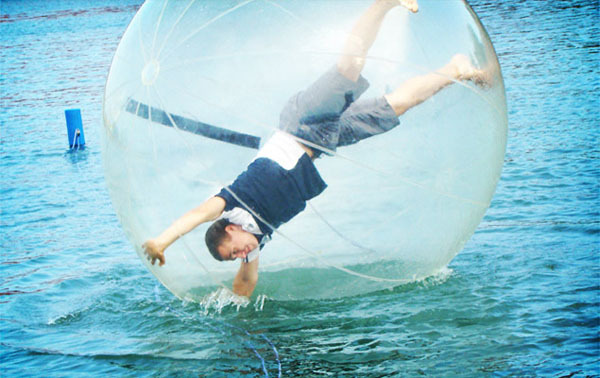 Added Crew:
Last summer I added two to my crew. Two that will stay on board, in fact, on deck, without ever getting bored! They also guard Mystique at her port and starboard lifelines - ready to recreate or rescue. Since returning from the Bahamas, we have had lots to yak about and the consensus: our two kayaks made our crews and our cruise that much more delightful.
Kayaking Miami near Marine Stadium and the Rusty Pelican on Key Biscayne, Florida
Henry near Warderick Wells, Exuma
Ellen at Cambridge Cay, Exumas
Jared at Cambridge Cay, Exumas
Lynne at Cambridge Cay, Exumas
Talk about taking shore leave literally at Cambridge Cay, Exumas
Kayaks were usually the first in the water after we anchored or moored.
Warderick Wells, Exuma Land and Sea park headquarters.
Yellow at rest while watching the George Town / Elizabeth Harbor cruising regatta.
Tyler and Meg at Pipe Creek, Exumas
Henry and Lynne near Emerald Rock, Warderick Wells, Exumas
Ellen and Lynne ashore on southern Warderick Wells and near Hog Cay
Brenna's view at Cambridge Cay
Red kayak in morning, sailors snoring.
A family paddleboard Christmas present becomes a flotilla of recreational proportions...actually just a threeesome.
Never bored,
our crews rarely stayed on board unless
you consider the above.