Fit to be Tide
The Aquarium and the Short Cut
Exuma Sea and Land Park: Cambridge Cay to O'Brien Cay and Halls Pond Cay
Exumas, Bahamas
March 4, 2015
This day we found ourselves caught, captured and captivated in between eye-openers. The first half we snorkeled in a sea aquarium; the second half we sailed somewhere, ended up going nowhere and almost tied up where we started. I guess you could say, tongue in cheek, it was a day fit to be tide. It was a day we could have used an inch or so more water, but we just couldn't afford to wait. So we ended up where Mystique had been anchored before only to be told to move. Tyler and Meg at the plane crash site.
The Day: Our agenda (my plan actually) was to move Mystique from its Cambridge Cay (Little Bells Cay) mooring to an anchoring area close to the Exuma Park's aquarium, explore it and then sail northward along our once-traveled (15 days earlier) Halls Pond Cay's western shore route, bypass the park's scenic Warderick Wells headquarters because of time constraints, then head north for Cistern and Hawksbill Cays. However, this day would take the four of us on a different journey than we anticipated.
Hot pancakes drenched in syrup were on my breakfast menu. I offered to cook breakfast, but after opening a year-old unopened box of Aunt Jemima pancake batter, I soon concluded the rock hard contents mixed with a cup of milk and an egg at best only resembled a Bahamian beach color. All other similarities weren't going to make anything resembling hotcakes. Beach sand would have looked more like batter. Even after adding a cup of milk, an egg and some vigorous stirring, the solidified lumps and chunks resembled something akin to concrete. When I offered scrambled or fried eggs as an alternative, Lynne suggested French toast. When I noticed Meg wearing a black T-shirt with the white-inscribed words listed
French Fries, French Dressing, French Toast, French Kissing, it seemed only fitting as all the ingredients were already on the counter. Little did we realize at the time my breakfast plans would parallel our day. Some sweet initial ideas mixed together with some overly-ambitious ones. Like breakfast this morning, we would be satisfied with another course.
After our French toast, we departed the idyllic Cambridge Cay (Little Bells Cay) anchorage and under beautiful blue skies, we pointed Mystique to O'Brien Cay a mile or more northward. The Marine Park. Meg, Tyler and I dinghied over to the aquarium just north and west of O'Brien Cay (Lynne stayed behind), where we tied up to a mooring ball, then snorkeled around a sunken plane just 100 yards west of where Mystique anchored. The submerged wreck had plunged upside down into the 10-foot crystal blue water and stuck nose-first in the sandy white bottom in-between 3 islands. Some colorful coral had adorned its fuselage possibly for 50-60 years while various fish had made it their home. After 20 minutes we climbed back into our dinghy and motored the 1/2 mile northeastward toward two other waiting white buoys.
As soon as we reach the other park mooring balls and before we even slipped back into the water, hundreds of multi-colorful 5-7 inch reef fish surrounded our dinghy. Seemingly hungry for food or human attention, they followed me. They then turned their focus on Tyler and Meg as they slipped in the water. I guess in the hopes of being fed. Their underwater kingdom seemed a kaleidoscopic paradise of colorful corals. Swimming around the small nearby island, the fish stayed close to home while the waters opened to sandier coral-free bottoms. Encircling the island and returning to our dinghy, we encountered the swirling hungry school which once again met us like adoring heroes returning from our aquatic exploration. It felt surreal swimming amongst all those fish in an aquarium, but also hopeful as I hadn't see as much healthy looking coral as this in my years of sailing. Reminded me a little of coral I had seen in Belize in 2008.
The school turned its attention to Tyler as he was ready to slip into the water from the dinghy.
Lynne was awaiting our return and the details of our two dives. As other boats began to appear nearby, Tyler and I readied Mystique for what I thought would be a glorious northward sail along Hall Pond Cay's westward side. Having captured our snorkeling on our GO-PRO (video to be added soon), we first thought attaching it at the mast to capture raising our mainsail would be a unique view. So while still anchored and head to wind, Tyler winched away and up she flew....except as he cleated its halyard, he realized he had forgotten to push the ON button on the camera. Oh, well, the first of our day's missed opportunities.
Johnny Depp + the Not-So-Secret Service
Flashback: On Sunday, February 9th an hour after we anchored Mystique off the southern-most cove of Little Hall's Pond Cay, two park Bahamian Park rangers stopped by in a motorboat to notify us that we had to move. Because an important Bahamian event was happening soon, they "asked" us to anchor at the next island for "our safety". Not understanding the request, "For our safety?" They said there would be sea planes arriving soon for a wedding and military operations and for US secret service training. I asked them how much time we had. They insisted we move immediately.
Motoring along the western side of Halls Pond Cay in the Exuma Park heading south, we watched as a sea plane takes off in front of us during our first visit to this area.
At the time we passed this beach-side wedding site, we did not know
who was getting married. We had yet to receive our invitations.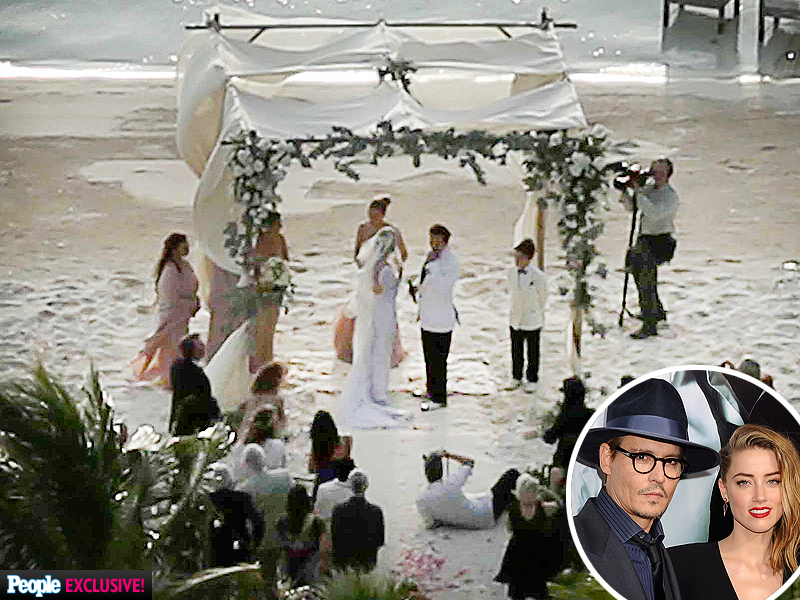 When we eventually discovered we hadn't been invited to the Johnny Depp / Amber Heard's wedding or the Bahamas ceremony, the Marine Park Service ushered us away for our "safety" because we anchored too close.
The Short Cut
After our snorkeling adventures, we headed northward or so we thought. With mainsail up and both engines running in idle, we raised our anchor, unfurled the jib and turned tightly around a recently-arrived Canadian catamaran to our starboard. As soon as we moved out of the lee shelter of O'Brien Cay, the 15-18 knot wind caught Mystique's sails and increased our speed to 6 knots. I then doused our engines as we sped across the confluence and headed to our day's destination - Hawksbill Cay, 12-15 miles to our north. Or, so I had everyone else believing.
While our route was narrow along the Halls Pond shoreline, it was easy to navigate. The course between jagged shore rock and shallows / white drys was easily visible...at first. The chart indicated plenty of water 5-10 feet and a sandy bottom. But now underway from the opposite direction, I soon realized land features don't always appear to seem as familiar. By 11:00 AM and a high sun, the water coloration between deep and shallow was pretty clear. Darker blue deepest; whitest shallowest. And the lime green often the in-between color. But not always!
During our previous sail southward, my chart had indicated a narrow 0.9 meter spot just west of Halls Pond Cay that posed no difficulty to our crossing over it with Mystique's 3'8" draft...at high tide. And because I had a month earlier steered Mystique southward along the same route, I thought I knew it. Somehow, with the prevailing SE wind at 15-18 knots, I was overly confident we could sail this mostly NW passage safely. I estimated we could reach our destination by early afternoon. Maybe the beauty and joy of this day's park experience had made me underestimate one very important detail - TIMING THE TIDE.
Only Needing an Inch or Two
The tidal currents throughout the Exumas are strong through and near the island cuts - the openings between the deep eastern ocean and the shallow western flats. Sometimes these openings create rough conditions when the two forces, wind and current, oppose each other. And with forceful ebbs and flows ranging around 3 feet while creating drys at low tide and passable lush shallow-drafted routes at high, passages change.
When we ran aground we were a few feet too far to port. With sails stil raised and the wind behind us, we waited an hour for a rising tide to dislodge us, but some waves from the wake of two passing motor boats did the trick. But our freedom was short-lived. About a hundred yards further, we were immobile again. We all though at first "What a beautiful spot to get stuck".
So we waited and waited patiently for 3 hours. Eventually, I would also examine first hand how much sand moves with the current when I snorkeled under Mystique to assess our situation after we hit sandy bottom. I could actually put my fingers under the keel and push away the sand, but it quickly filled up any hole I dug. Finally the tide enabled us to spin around. We only had about 10 feet and a couple inches of higher tide to move forward. We tried a couple more times without success.
The Dilemma: Try again in an hour and risk getting stuck at high tide or return the 5-6 miles to where we started the day.
Problem-Solved: The shifting sands piled up against the keels, making further progress uncertain. I chose not to wait another hour and hope that was enough time to free us so I turned Mystique around and returned while it was still daylight to the same anchorage where the park service had told us to move from the previous month. Even though we had cleared this spot before, I did not want to be stuck at high tide in the dark. Short cuts can cause delays if one makes a mistake. Longer delays happen when favoring uncertainty. Tidal current can tie anyone up and give one fits when one doesn't employ sound judgement. I had already made one mistake today and that was my quota.
Our lunch time view stuck on the shallows at the northern part of Halls Pond Cay.
Our view near the southern point of Halls Pond Cay at sunset on March 4, 2015.