Cat Like
For me, it was and is a no-brainer. I have been called "traitor" for owning a catamaran, but I like to think of myself more as a "convert" or "progressive". While CAT-egorizing is mostly CAT-ty stereotyping, I think of myself as a sailor, not a cat or multi-hull owner. To me, the type of boat one owns isn't the issue. The cat doesn define me
A sailboat is a personal life style choice. To me, sailing is the thing. Sailors sail. Some sail for speed, Some for adventure. Lots of reasons. What boat another sails makes little difference to me; it is the sailing I identify with. That being said, I prefer cats, not because I love or identify with felines, but for a great many other reasons.
During my first 55 years, I sailed on nothing but monohulls...all kinds, shapes and sizes. Until I chartered a cat in the BVI's for the first time in 2006. It was then I became a believer. And since that time, I have not departed or sailed into any harbor on any vessel with less than two hulls.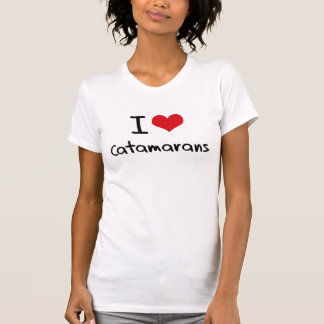 Fun, comfort and space for crew was more important than almost everything else for me.
A few years ago when I was in Sint Maarten, I started a conversation with an American couple about my age. They had chartered boats through the Moorings for 15 years and had tried a catamaran only once, but said they didn't like it. I asked why. The wife said it felt too spacious, didn't like the wheel steering and handling. To them the experience didn't feel like traditional sailing. She added that in her one experience sailing a cat it did not feel like real sailing. While it is easy to say "to each their own", it is difficult for me after owning Mystique for over 10 years to comprehend simple creature comforts and quality of life style, especially when considering others onboard. At the time I purchased my cat in 2008, I could not help imagine the self-inflicted punishment sloop diehards endure to protect what I see as their antiquated traditional perspective.
The Cats are Coming: In the 10 years I have sailed catamarans, I have witnessed their CAT-apulting explosion. During my recent 2-months in 2015 sailing to the Bahamas/Exumas, it was obvious at every anchorage, catamarans are becoming more popular. They are CAT-ching on with the cruising community. When we heard an announcement on the Cruisers' Net in George Town, Great Exuma that in February 351 boats were anchored in Elizabeth Harbor as compared to 240 last year at the same time, we could witness the ratio of cats to monos moving closer to 50:50. Of course, what everyone else is buying is never a strong reason to fit a boat to your lifestyle.
Since my conversion, I have encountered other non-converts or traditionalists who have wondered what I have found so fascinating about catamarans. I always chuckle at the inquiry because it appears most questioners have had little to no experience sailing or crewing on one. We all now the difference between night and day
And what seems more interesting, these individuals apparently have made few, if any, attempts to experience the difference. It seems to me these people stuck to a CAT-atonic belief that something newer could not be better, so they stay steadfast to what they are used to and to their inability to change. Opps, don't mean to CAT-alogue others for their lifestyle choices.
I can only think of four advantages monohulls have over cats and they seem so minor they hardly seem justification as advantages.
For example:
Most 40' sloops...
steer closer to windward (point higher)
require less dockage space
offer a more classic, traditional look
usually cost less because of size and room
Cat differences: (as experienced in my 10 years owning and sailing my 40' Mystique)
SPEED:
greater hull speed off the wind (reaching and downwind.
COMFORT / STABILITY:
virtually no heeling (unlike a HobiCat)
less tossing at anchor with wider bridle
rides waves at anchor better so better sleeping conditions
more room for bathroom
DRAFT / ANCHORING / BOTTOM CLEANING:
navigates into shallower anchorages with 3'8" draft
anchors closer to protected areas
anchor bridle keeps boat closer to head to wind
boat remains upright when aground
beaching boat on sand to clean bottom or conduct repairs is possible
more hulls to clean
MANEUVERABILITY / TWO ENGINES:
pivots with two engines
easier to steer in reverse with two engines
easier access for engine maintenance
power vessel on one engine, if necessary
LIVING SPACE & PRIVACY:
more sitting room
greater dining area
4 private staterooms each with double bunk (sleeps at least eight adults)
2 bow bunks for children sleeping space
more ventilation with overhead hatch and 1-2 open-able port holes in each stateroom
a head and shower on each side of vessel
GALLEY & AREA:
easier on the cook - larger galley more room to move
larger stove
larger refrigeration space
more counter space
2 stable serving tables (no gimbals needed)
ENTERTAINMENT / SOCIAL:
more table space
more shaded areas
larger deck area
STORAGE & ACCESSIBILITY:
more dry storage space
greater water storage
larger toilet holding tanks
fuel tanks larger
added space for additions such as water-maker, solar panels or wind generator
SAFETY:
more headroom
more stability
smoother ride
wider berth
can cruise into shallower water for protection
wider bea
windage in strong wind can
DINGHY & DINGHY SAFETY:
stern davits for hoisting dinghy
no need for foredeck deck dinghy storage
RECREATION & FUN:
bow trampoline for sunbathing / exercise (TRX) / yoga
out-of-the-way deck space for kayaks, paddle boards, surf board
two stern water level swim platforms for easy entry and exit from water
one outdoor shower