Cloudy Art Forms
Overcast? Overhead? Overlooked?
Seeing ourselves in clouds?
Having recently spent close to six straight months at sea, I have begun to regard cloudy days as more beautiful than sunny. Granted this is a purely subjective statement, but one that has generated some interesting rationale through some not-so-obvious observations.
When one lives on the water, cloudy days suggest something different. Yes, they mean possible weather. That is pretty obvious. But they also imply a certain state of mind descends or rains down upon the earth. Everyone responds to the clouds, whether they are dark and ominous or fluffy and billowy/pillowy. The response could range from apathy to awe. From whatever to wow. But we are all affected by the mount of light in varying degrees.
Some people's emotions are affected by the amount of light in the sky. Cloudy days block out light so some people are less positive and optimistic when the sun isn't shining. Some extroverts may be affected by the weather as they are often affected by out of body influences.
What are sky's most watched features? - Rainbows, lightning, stars, sunsets, blue sky,clouds, northern lights, UFOs?
What sky phenomenon never grabs any headlines, but is one of its most interesting? - Could it be clouds?
No one ever reads or hears some weather report describing clouds' beauty, height, length, density, intensity and power, but clouds are a prominent part of our skies. They are constantly changing, always covering large portions of the earth's surface, always blocking out the sun and stars. And clouds often take a bad rap because they suggest weather change, storms or darkness. Maybe clouds don't get the respect they deserve. Are they the skies' Rodney Dangerfield?
A brain storm happens when brains share their ideas, but sharing can get a little messy if umbrellas (minds) aren't open or sturdy enough to endure the impact of falling pie in the sky thoughts.
Some land-based people may tend to perceive a cloudy day as overcast, and hence gloomy or less delightful than a sunny, more cheerful one. Media-based meteorologists often portray cloudy weather as something to be concerned about, frequently reminding us what protective clothing to wear or sunscreen to apply.
Cloudy Interpretation: Godzilla? Christmas Tree? Snowman? - taken north of Providenciales, Caicos in January 2014
Sea-based individuals often see clouds differently. Being dependent on the weather and the wind, seafarers keep their eyes peeled for clouds. While they frequently suggest an approaching squall or weather front, a wind gust, some respite or rescue from the sun, quite often clouds paint a glorious, awe-inspiring panoramic seascape and/or story.
Sun Worship vs Cloud Worship:
Of course, some land/sand lovers seek beachside or poolside lounging areas to expose their tender fleshy regions to the hardening effects of both solar radiation and opposite gender glances and gawkers. Sun deepens and damages skin tones while clouds cover yet in some cases magnify radiation. Eyes get limited looks skyward on a sunny day without sustaining any retinal damage, but clouds allow us to gaze up and daydream.
Party Sunny vs Partly Cloudy Mentalities:
Is this just the same old jar half full / half empty metaphor revealing an optimistic or pessimistic tendency? Are these meteorological labels just some weak attempt at mixing up the weekly forecast or subliminally indicting the mood of our country?
Prior to dawn Mystique anchored west of Square Cay, Exumas
Sunrise a few minutes later with Square Cay to port.
Cloud Dream Interpretation:
Clouds in a dream can have two meanings depending on the dream circumstances. They maybe indicate construction or religious feelings or, however, show that the dreaming of a person or an object feels overshadowed. Clouds in the dream possibly are also a warning before possible difficulties or dangers. Above all, storm clouds allow to expect setbacks, the existences can destroy. Fleecy clouds promise against it joy. Does this make sense to you?
Difference between Partly Sunny and Partly Cloudy:
How can they mean the same thing if they are different?
Is this explanation an example of doublespeak?
Seems "pretty-much mostly cloudy" to me.
Read chart below for clarity?
Chart and quote taken from Mental Floss article: Life without clouds:
Brenna snapped this photo near Long Cay and Cockburn Harbour, South Caicos.Would eliminating the clouds make the view of this solo mangrove sprout more or less dramatic?
So how would you label this cloud cover from above? Partly sunny or partly cloudy?
Flying from Providenciales, Caicos to Miami,in February,
I could view parts of the Bahamas through the cotton-dolloped clouds.
Looking straight up from
Mystique's
deck provides a unique perspective of rigging and distance.
Sky as Canvas: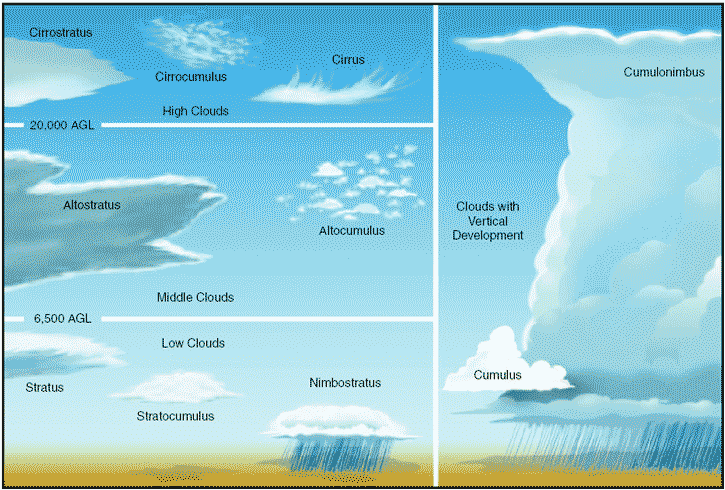 That photo is cloudy:
Cloud Art
Nov 2013 to April 2014
With clear heads and lens, various
Mystique
crew members photographed
all of the following cloudy shots either onboard or from a nearby shore during her
voyages from
St. Martin/Sint Maarten, Caribbean to Turk and Caicos
and southern Bahamas to Florida
Mystique
awaiting our return swim from Great Sandy Cay, Turks
The shadows of the clouds give the water's surface more definition while contrasting with the sky blues.
Brenna lounging on
Mystique's
foredeck just south of Long Cay, South Caicos on Christmas Day 2013.
Same squall approaching Turtle Cove, Providenciales, Caicos as the lead photo on this blog post.
The water color changes as the sky does.
Squall and rain showers sailing by Great Sandy Cay
Marigot Harbor, Sint Maarten - November 2013
A few minutes later....Marigot Harbor, Sint Maarten - November 2013
Whipped cream on toast?
Iguana Cay Marine Park, North Caicos
Ok, so what is so amazingly alluring about a cloudless blue sky?
Brenna and Rose's two-step in black two-pieces on Little Guana Cay, North Caicos?
Looking towards the northern reef off the Turtle Cove area of Providenciales, Caicos
Those who likely want some clouds in the sky:
The calm before the storm!
Lynne's yoga on
Mystique's
foredeck trampoline as squall approaches.
weather forecasters
farmers in drought areas
fair-haired, light-skinned people
artists and photographers
therapists / psychologists
athletes / yogis on the foredeck
those hiking a desert or arid region
those stranded in a remote area without their bottled water
those with light sensitivity or without their sunglasses
those still smarting from yesterday's surprise sunburn
Those who probably want a cloudless sky:
Steam? Smoke? Cloud?
Little Iguana Cay Marine Park
sun worshippers and beach bum
sunscreen and sunburn ointment manufacturers
darker-skinned people
vitamin D deficient people
flood victims
extroverts
pessimists, doomsayers, apocalypse predictors
optimists
perfectionists?
romantics?
moon watchers / star gazers / astronomers
those who left their raincoat at home
Tea Party Conservatives?
Those who don't care whether it is cloudy or not: