Our Inner Onboard Animal
While Mystique was anchored in Manatee Pocket, Melinda rowed over to my catamaran from a neighboring motor-sailer to inquire about my Aerogen wind generator. She wanted to know how it was so quiet when all the others in the harbor weren't. After sharing some of my product literature with her, I discovered she owned a half Dalmatian / half Welsh Terrier named "Girlfriend". While we only conversed three times, it was obvious her dog was a major part of her life. She casually mentioned her live-aboard companion was her "excuse and escape". Because the dog needed time on land, she found her exercise rowing and walking with her girlfriend ashore. She then added "My canine companion gives me an opportunity get away from my husband"... then quickly added "Creating individual time and space as a live-aboard couple was critical to her happy 18-year marriage." Her dog helped her cope and calm the waters between her and her companion.
In the novel and movie Life of Pi, a young man survives a disaster at sea only after an epic journey of adventure and discovery. While cast away on an open life raft the Pacific Ocean for 227 days, he forms an unexpected bond, a life and death symbiosis with another survivor: a fearsome Bengal tiger named Richard Parker.
What happened to Pi?
Why was he not eaten?
How did he survive?
Did he dream it all?
A popular interpretation of the story is that Richard Parker performs Pi's acts of animal behavior, without which Pi would have gone insane and died. Another view is that for Pi to remain sane and morally sound, he has to perform acts which kept him alive. While the tiger threatens his life by its very existence, it also not only enables Pi to grow stronger. Their duality helps each of them survive. They somehow realize they need each other. Eating the boat owner means learning to paddle. Killing the dog or cat means sailing or rowing alone. Maybe without our inner onboard animal, we would all go stir-crazy...living only on board a boat or on a shore!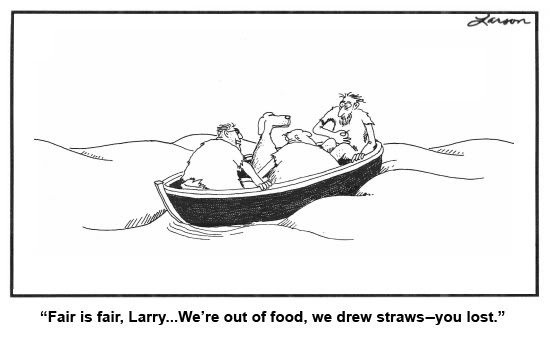 Note: I grew up with dogs, but I have never felt the need to have one live on board with me. I only own a cat-amaran right now (no other animals aboard), but since I grew up with canines and literally lived with Basset Hounds (as they were my mother's hobby when I was a kid), I know the value of their companionship. And I also know the commitment and care they require; I would rather leave them ashore where they can live a better life.
Each day I hear a dog bark from a nearby boat; each day his owner leaves him. That is no life for any creature - to be left alone all day without ground to play on or an owner who cares like a girlfriend.