Mystique's Mayaguana Moon
Abraham's Bay on the Bahamian island of Mayaguana
22 degrees 16.70 N, 72 degrees 48.40' W
Saturday evening, February 15, 2014
- A moonlit night without rival.
- Nature is the ultimate artist and performer.
- We settle for what we become accustomed to.
Last night a fully radiant moon rose on an eastern horizon minutes after a perfectly rounded, orange/red solar ball had dipped below the western sky's lower edge. The lunar light then dominated and adorned a cloudless, star-filled night sky while transforming the translucent reef-green waters to pure glow and sparkle. Forming a yellow triangular path of reflected light radiating towards Mystique's hull, the moon entered our evening anchorage by presenting itself with a quiet, yet steady rising. Almost like a fashion show on a water runway, the shining strip directed all eyes' focus on the rising beauty strutting her heavenly body. The sea's horizontal motion sparkled and waved like adoring fans and camera flashes applauding the lunar orb emergence and slow vertical elevation onto the heavenly panoramic stage above.
When I awoke around midnight and stepped on deck, Mystique felt mystical and magical. The light breeze formed water wavelets that partially reflected the sky's star-sprinkling while the moon beams penetrated our vessel's ten foot depth and made the bottom appear within reach. The sky and water appeared so magnificent together, they almost startled me as I made my way on deck. Granted at first I was half-asleep, but I was soon wide-awake. This vision of beauty could not be missed. I stayed transfixed for 15 minutes before returning to bed, but by now my senses were too stimulated for me to fall back to sleep easily. When I again awaken a few hours later, I felt as if I had truly watched one of nature's a rare gifts in my 64 years. Filled with nothing but natural light, the sky shone true.
Because there were no city lights or signs of humanity's intrusion, or dare I say its trespassing, into nature's nightly light show, I realized I had grown so accustomed to watching an adulterated evening theater while Mystique was anchored so close to civilization. The lights of society darken the sky with its brilliance. So under this darkened sky, I realized how much I had truly missed the night's magical magnificence.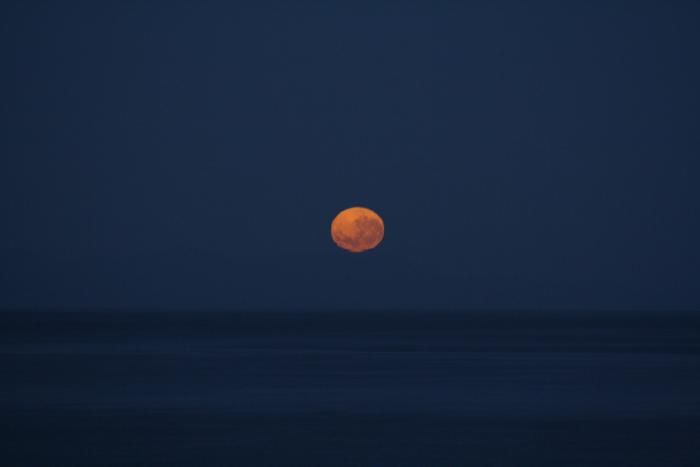 Isn't it true we become accustomed to beauty as it is presented to us? What has been deemed the beauty standard becomes the reference point for future human efforts. But nature doesn't work that way. It evolves and becomes, but doesn't attempt to please or to placate the masses. Nature presents itself, but often we can't see it because we humans are too busy creating conveniences, comforts and creations.
Art attempts to challenge our senses much like nature does. But we often don't see nature's unless we get away from human works of art galleries and observe nature in its raw and real state. And don't we, as we accept that version of what pleases the eye, continue to crave and create images as we want to see them rather than leave them as they are. If we take a photo with a filtered polarized lens, alter it later with an Instagram or Ta Da app aren't we in some way changing reality to fit our fantasy? with the influence and alteration of human society, we When can you observe anything as it is nowadays? How can you believe what you see nowadays?
Tonight's moon is barely visible with numerous low rain clouds blocking its radiance. Is tonight any less magnificent because the light show and sparkle are missing. Does nature receive negative reviews for not displaying its color and ardor? Maybe, but that's a human thing.